Head Hands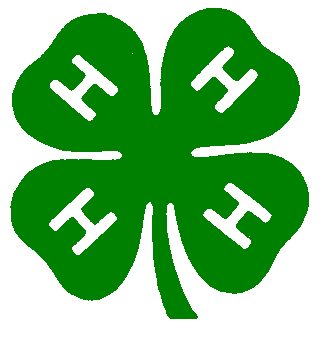 Heart Health
The 4-H Clover symbolizes four actions
which 4-H members try to accomplish. The four H s' stand for Head, Hands, Heart, Health, as it is in the pledge.
I Pledge My Head to clearer thinking, My Heart to greater loyalty, My Hands to lager service and My Health to better living for my Club my Community my Country and my World.
THEME FOR 2016--2017
#4HGROW
MEETINGS

October 4th @ 5:30/6pm
Activity: Decorate window at OFS Medical Group
ENGLISH'S to bring: Cut out Charlotte Plan-Its letters, sign with time, day, place & leaders, shorts for scarecrow, newspaper for stuffing, basketball players with kids head, tape, markers, crayons, clip art of world to use as basketball
ROCK'S to bring: Pumpkin fo head, Newspaper for stuffing
HUGHES'to bring: Nylons, newspaper for stuffing, painted shirt (need to send Allison Picture of Aaron)
NEED TO DECIDE ON: What will the scarecrow sit on? Anything else I forgot to include?

November 8th @ 6:30pm
Activity--Color Soldiers Saluting the Flag for Dwight Nursing Home 80 residents--MONEY DUE $30 PER CHILD
Snack: Rocks

December 29th @ 6:30pm
Christmas Party at Hughes House--will make pizzas & play bingo--Please bring a snack to share.
Play bingo--bring 5 one dollar items for Bingo

TBA Ring bell at Big R

March 14th @ 6:30pm
Activity: Dye Eggs-- will need eggs, dye kit, nose suckers, and milk containers (Allison will get from school)
Snack: English

April 12th @ 6:30pm
Activity: Get up and Move activity--Aaron & Mikaayla will plan activity
Decide who will do what for demo's & snack
Decide on Clover Bud project so we can make a June meeting
Snack-Rocks

May 1st @ 6pm to set up with HCE ladies arriving at 6:30pm
Activity--Demos-everyone does a demo
Snack--everyone will bring something--will decide what at the April meeting

June Meeting--date & time To be decided--COOKOUT
Butterfly Garden help again? Pick up garbage at Park?
Need to discuss further. Make Cloverleaf project.

PLANTING RED BUD TREE
GFWC IL Woman's Club of Cullom, Cullom HCE and Charlotte Plan-Its 4-H Club members shared in purchasing a Red Bud Tree to be planted by the Butterfly Garden on the corner of Walnut and Jeffery. The tree was planted May 14, 2012.