Head Hands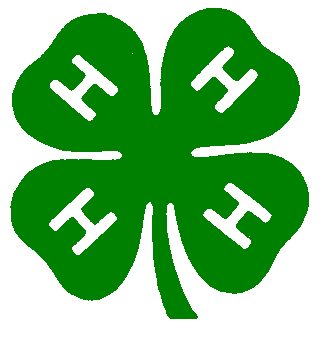 Heart Health
The 4-H Clover symbolizes four actions
which 4-H members try to accomplish. The four H s' stand for Head, Hands, Heart, Health, as it is in the pledge.
I Pledge My Head to clearer thinking, My Heart to greater loyalty, My Hands to lager service and My Health to better living for my Club my Community my Country and my World.
THEME FOR 2016--2017
#4HGROW
MEETINGS
*October: ACTIVITY: Decorate window for 4H week at
OSF Medical Group
*November 9th--6:30pm SNACK: English: ACTIVITY: Make flags for nursing home. MONEY DUE $30 PER CHILD.
* December 9th--6:30pm: Christmas Party at Kross Roads, order pizza and pop. Play Bingo--bring 5 one dollar items for Bingo.
* December 16th: 5:00-7:30pm Ring Salvation Army Bell at Big R
* January 11th: 6:30pm SNACK: Hughes ; ACTIVITY: Make Snowflakes for nursing Home and us.
* February 8th: 6:30pm SNACK: Rocks; ACTIVITY: Get Moving Night---Mikaayla & Aaron need to come up with activity.
* March 8th: SNACK: English; ACTIVITY: Cloverbud Project, talk about projects, work on projects if needed.
* April 12th: 6:30pm SNACK: Hughes; NEED AN ACTIVITY -- go over who will do what Dem's at the next meeting.
* May 10th: 6:00pm to set up start with HCE Ladies arriving at 6:30pm: ACTIVITY: Demos --everyone does a demo. Snack: everyone will bring something--will decide what at the April meeting
* June meeting Date & Time to be decided. Cookout. Butterfly Garden, Help again? Pick up garbage at Park? Need to discuss further. Allison will arrange.
Trip to the Cullom Fire House 2-12-14
Presenting a "Thank You" Poster for the Fire Truck rides at "Breakfast with Santa"
Trip to Cullom Fire House 2-12-14
Checking out the inside of the ambulance
Trip to Cullom Fire House 02-12-14
Checking out the fireman's gear and masks
Trip to the Cullom Fire House 2-12-14
After our tour of the Fire House
PLANTING OF RED BUD TREE
GFWC IL Woman's Club of Cullom, Cullom HCE and Charlotte Plan-Its 4-H Club members shared in purchasing a Red Bud Tree to be planted by the Butterfly Garden on the corner of Walnut and Jeffery. The tree was planted May 14, 2012.