Head Hands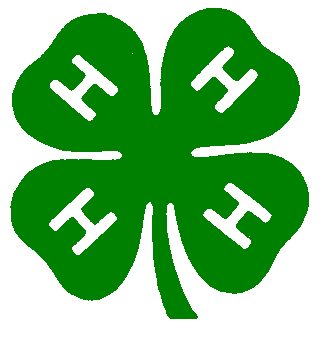 Heart Health
The 4-H Clover symbolizes four actions
which 4-H members try to accomplish. The four H s' stand for Head, Hands, Heart, Health, as it is in the pledge.
I Pledge My Head to clearer thinking, My Heart to greater loyalty, My Hands to lager service and My Health to better living for my Club my Community my Country and my World.


PLANTING RED BUD TREE

GFWC IL Woman's Club of Cullom, Cullom HCE and Charlotte Plan-Its 4-H Club members shared in purchasing a Red Bud Tree to be planted by the Butterfly Garden on the corner of Walnut and Jeffery. The tree was planted May 14, 2012.
2016-2017 Charlotte Plan-Its 4H President
Aaron Hughes
2016-2017 Officers:
President: Aaron Hughes
Vice President: Kasi Hughes
Secretary: Addisyn Rock
Treasurer: Mikaayla English
Jr. Leader: Mikaayla English
LEADER
Allison English
11-9-16 4 H ers making flags for nursing home
Back: Addisyn Rock; Kasi Hughes: Olivia English; Bryce Rock Front: Mikaayla English, Aaron Hughes
Veterans Day Speaker....Ron Shapland 11-12-14
Back: Aaron Hughes, Kamyrn Shifflet // Front: Cari Hall, Mr Shapland, Kasi Hughes
Charlotte Plan-Its 4H club (12-19-14)
Jared, Kamyrn // Kasi, Cari, Mikaayla, Olivia. Aaron not present
Trip to the Cullom Fire House 2-12-14
Presenting a "Thank You" Poster for the Fire Truck rides at "Breakfast with Santa"
Trip to Cullom Fire House 2-12-14
Checking out the inside of the ambulance
Trip to Cullom Fire House 02-12-14
Checking out the fireman's gear and masks
Trip to the Cullom Fire House 2-12-14
After our tour of the Fire House