2022-2023 Officers & Members
Back: Robin H, Jess H, Shelia K, Meri K; Front: Judy E, Linda V
2023-- 2024
HCE Officers

President: Linda Vercler
Vice President: Robin Holzhauer
Secretary: Meri Knapp
Treasurer: Judy Ehlers


2023 -- 2024 Meeting Dates

Tuesday, Sept. 5
NO 7:00pm Meeting
Will meet in October.

Tuesday, Oct. 3
7:00pm at Cullom Community Building

Tuesday, Nov. 7
7:00pm at Cullom Community Building

Tuesday, Dec. 5
Christmas Party. Time & Place
to be announced.

Tuesday, January 2, 2024
7:00pm TBA

Tuesday, February 6
7:00pm TBA

Tuesday, March 5
7:00pm TBA

Tuesday, April 2
7:00pm TBA

Monday, TBA
County Meeting
Extension Office..Pontiac

Tuesday, May 7
7:00pm TBA

Tuesday, June 4 ???
It is with sadness in our hearts...our beloved Pat Johnson (Our devoted Treasurer) passed away on December 15, 2018.
2018-2019 HCE Officers
Back: Pat J, Judy E Robin H, Sitting: Linda V, Meri K,
2017-2018 HCE Officers installed by Nancy Flessner
L-R: Pat J; Meri K; Linda V; Robin H; Judy E; Nancy F.
HCE Lesson Cooking with Cast Iron 11-01-16
Linda Vercle doing the lesson. Cracking egg to fry.
Making farmer treats for harvest 10-4-16
Making Farmer Treats
10-0416 17 bags Farmer Treats
10-04-16 Fun Project
Candy Pumpkin Treats for ourselves
2016 HCE Wreath
2016 Festival of Trees/Wreaths at Library 11-20-16
2015 Tree for Festival of Trees
blankets for Salem Boys Home, Flangan
Working Wilma Johnson Sale Lunch Stand 7/18/15
Linda, Pat F, Meri, Pat J, Judy, Arlene, Birgit
Making Pillow cases for Children's Hospital
Pat F, Nicole, Suellen. Linda, Birgit, Meri, Pat J. Picture by Judy E: 2-3-15
Cullom HCE Christmas Party 12-2-14
Pat F, Diana, Judy, Linda, Betty, Pat J, Meri, Marge, Erran, Birgit, Arlene, Nicole
Donation of $100 to Library for Book Bags
Meri Knapp to deliver
Fleece blankets for Salem Boys Home in Flanagan
Displayed by Judy and Meri
First Cullom HCE Meeting of 2013-2014 09-03-13
10 members and 3 guest (Kay Godbee, Cathy Cramer, Moni (Birgit's sister-in-law)
*********************************************
PLANTING OF RED BUD TREE
GFWC IL Woman's Club of Cullom, Cullom HCE and Charlotte Plan-Its 4-H Club members shared in purchasing a Red Bud Tree to be planted by the Butterfly Garden on the corner of Walnut and Jeffery. The tree was planted May 14, 2012.
Woman's Club, HCE, 4-H members & Helpers present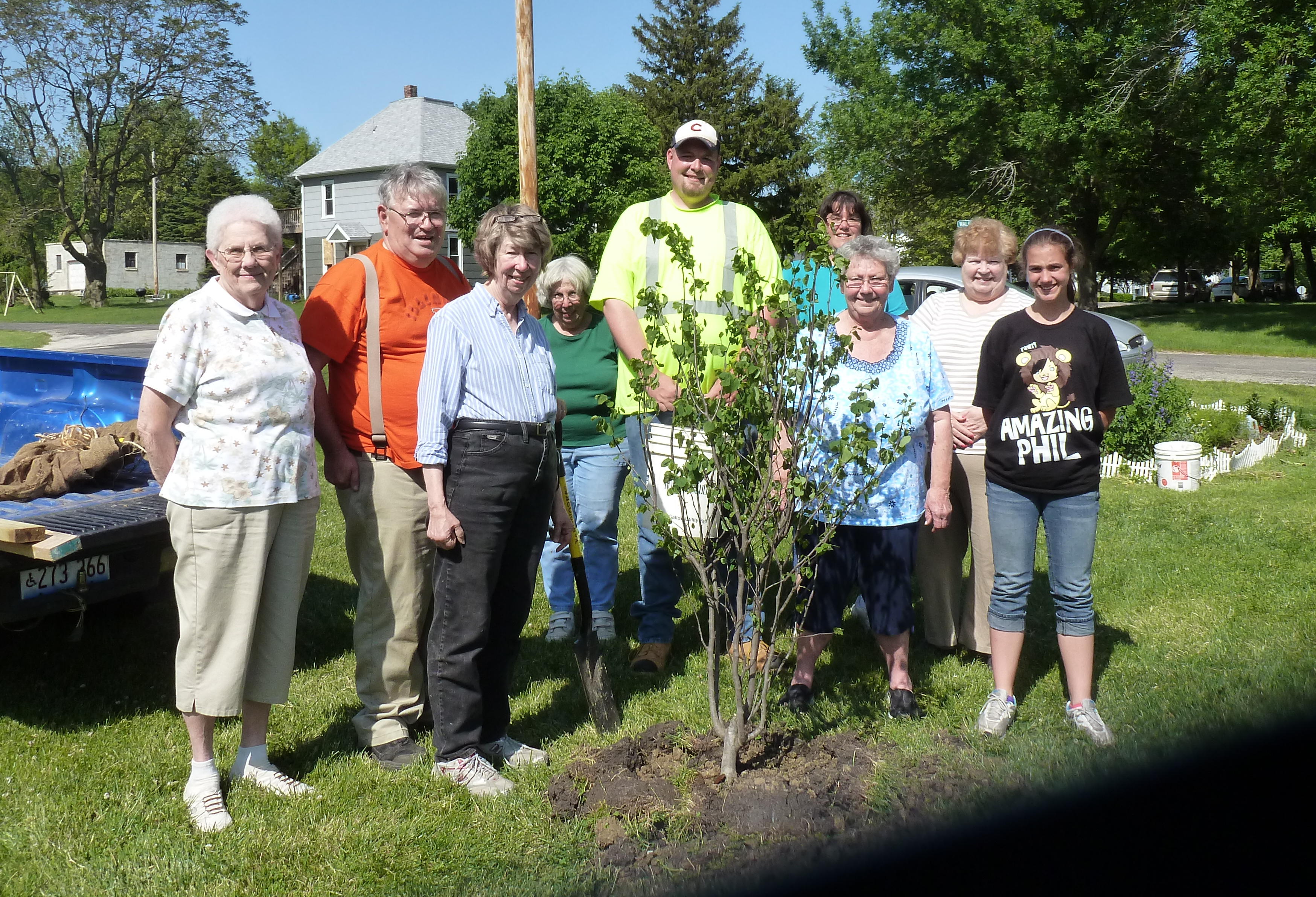 Pat F, Bob V, Linda V, Meri K, Josh S, Kim E, Judy E, Diana T, Lauren E ************
Red Bud Tree
5-14-13 One year later. Beautiful
HCE Dec, 3, 2013 Christmas Party
with items for Good Sam, Pontiac
12-04-12 Our HCE Christmas Party
Our group with items for Food Pantry and Fleece Blanket held by Kim, Robin & Suellen for Give Away.
12-04-12 Activity
We all made a Christmas Ornament in different colors
12-04-12 Showing off the different color ornaments
Pat, Kim and Michelle
Made glass garden stakes at our 1-8-13 meeting
Judy E, Nancy F, Michell J, Arlene B, Birgit McC, front: Jessica H, Helen T, Pat F.
1-8-13 HCE Meeting
Up close look at some of our Glass Garden Stakes
1-8-13 HCE Meeting
Some more garden stakes.
02-05-13 Speaker on Strokes at HCE Meeting
Mary Kenndey from OSF Cullom
IN MEMORY OF OUR
PAST MEMBERS
In loving memory of Birgit McCulley
Birgit passed away 12.30.17
In Loving Memory of Marge Kross
Marge passed awary 12.31.17
In Loving memory of Helen Trost
Passed 03.16.18 at 101 1/2 yrs old
In loving memory of Pat Johnson
Pat passed Dec. 15, 2018. She was our HCE Treasurer.
In loving memory of Pat Fagan
Passed Friday, March 10, 2023
The Cullom Historical Society has taken over the Cemetery Walk since Covid (2020). It is held at the Museum usually in October.
6th Annual HCE Cemetery Walk ---Oct. 5, 2019
Meri Knapp, Nancy Flessner, Phyllis Moritz, Sandy Gunther
The Cullom HCE Unit held their 5th annual Cemetery Walk October 13,2018 at the Cullom Historical Society Museum. It was a great event. Thank you for everyone's support.
4th Cemetery Walk 10/7/2017
Phyllis Moritz; Meri Knapp; Sandy Gunther; Melody Haag; Pat Johnson
Meri Knapp 2016
Protrayed Martha Reinhart
Nancy Flessner 2016
Protrayed Dr. Dwyer
Pat Johnson 2016
Protrayed McCaughey Brothers
Sandy Gunther 2916
Protrayed Andrew Haag
Hostesses Arlene Brucker & Birgit McCulley
October 8, 2016
2015 HCE Christmas Supper
We all brought food items for the Food Pantry and had a grab bag gift exchange
Cullom HCE members assembled and sewed pillow cases for the Children's Hospital in Peoria at their meeting Tuesday, Feb. 3 at the Cullom Community Building. Ten members helped. Pat F, Nicole F, Suellen F, Linda V, Birgit McC, Meri K, Pat J. Not pictured Nancy F, Jess H. Taking Pictue.. Judy E. Fourteen pillow cases were completed. Have 10 more to go. Goal is 24.
Pillow Cases for Children's Hospital in Peoria
10 members worked on this project Tuesday, Feb. 3, 2015
2014 Fall Cullom HCE Garden
Special visitors to our garden
Helen Trost.--50 year member (2010)
May 1, 2012 meeting
Years of service Linda Vercler 40 yrs; Jess Hahn 5 yrs; Birgit McCulley 40 yrs
02-25-13 Gathering at the hall to look for eagles
Pat F, Judy, Meri, Connie, Nancy, Vicki, Linda, Paula, Arlene, Pat J, Birgit, Erran, Tori
Cullom HCE Trip to Straved Rock to see the Eagles
02-25-13 Lunch at the Lodge with members and guest
02-25-13 Lunch at the Lodge
group from one end
02-25-13 Our group having lunch at the Lodge
This taken from other end of the table
02-25-13 HCE Trip to Starved Rock to Eagle watch
Two of the approx 20 eagles seen. Saw several in flight. Beautiful Weather for eagle sighting.
02-25-13 Having fun with Hats at gift shop
3 Eagles...Pat, Erran, Tori--1 Racoon...Birgit--1 Buffalo..Judy E
02-25-13 Our trolley trip to see the eagles
Ava, our driver in front; Our HCE group & guest. Beautiful Day, beautiful weather
02-25-13 Young eagle spotted close to the road
This eagle is under 5 yrs. They don't get all their white feathers till 5th year.